19 June, Father's Day
CUSTOMISABLE
JEWELLERY
GIFTS FOR FATHER'S DAY
Father's Day is a great opportunity to show all dads that we appreciate their love, support, advice and guidance. Offer the most special gift to make him smile. You can also engrave a special note to your gift that he'll always remember.
DISCOUNT
GIFT CERTIFICATE
Gift certificates are a great opportunity for amazing surprises even before delivery. You can give your Father's Day gift whenever you want. Don't forget to add a meaningful note to your certificate!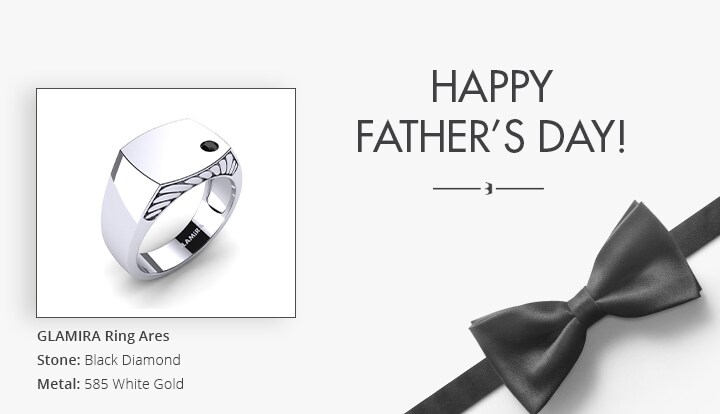 SPOIL YOUR DAD WITH OUR NEWEST DESIGNS
Best Father's Day Gifts 2022
Fathers are one of those people that will always have a special place in our hearts. They are by our side no matter what, from the day we are born. Fathers are supportive, fun, and they are truly real-life heroes. It is very clear that they deserve to be celebrated. Luckily, that is why humans invented Father's Day to honour the most special man in our lives. What better way to start the Father's Day celebrations other than gifting them an unforgettable present.
So you might wonder first when it is Father's Day this year, and then you can start looking for gift ideas for Father's Day. If you're behind your Father's Day plans, do not worry, we've sorted everything out for you. Keep reading to find all the details about Father's Day 2022.
This Father's Day, give the exceptional man in your life the best surprise by giving a unique and memorable jewellery gift to thank him for all the things he has done for you throughout your life. Whether it's your dad, grandad, uncle, or any other father figure - whoever! - give the best Father's Day gift to say happy Father's Day to all fathers.
When Is Father's Day 2022?
If you want to know when Father's Day is in 2022, The first thing you need to know is that there is not a set Father's Day date. Various countries celebrate Father's Day on completely different days. However, there are few ones that stand out. Let's take a look at what day Father's Day is on, in 2022. To start with March, Spain, Portugal, and Italy celebrate Father's Day on 19 March, while Denmark and Switzerland celebrate it on 5 June. Actually, there are many more countries that celebrate Father's Day in June. So if you are not sure, maybe the best way is to go with June. The United States, the United Kingdom, Netherlands, France, Japan, China, South Africa and many more celebrate it on 19 June. Lastly, Sweden, Norway, Iceland, Estonia, and Finland all celebrate it on 13 November. We hope this information helped you!
Best Father's Day Gifts Ideas
Although we do not need a present to show our love and gratitude towards our fathers, why not plan something different for 2022 Father's Day? At the end of the day, your dad will be happy no matter what.
Now, it's time for the fathers in our lives! Whether it's for your husband, dad, grandpa, or any other father figure, with our customizable jewellery, you can find that perfect gift. Though it may be a bit difficult to decide, you can take a look at our picks for yourself. From men's rings, leather bracelets, and earrings, you can find various options for each category and style.
Personalized Father's Day Gifts
Personalized gifts can make Father's Day celebrations even more special. If you are looking for unique gifts for dad, choose a design that will perfectly fit his style and decide the colour, metal and gemstones. That's all! Here you have a one-of -a-kind jewellery gift! Men's necklaces are a great choice to be personalized. You can browse from Wood & Carbon, Men's Ceramic Jewellery, Fashion, Symbols and Religious Symbols styles. These necklaces also can be personalized. They can be adorned with diamond, sapphire, Swarovski crystal, onyx, emerald, ruby and other gemstones. Gold, silver, platinum or palladium… Whatever you wish, it's possible here at GLAMIRA - your online jewellery shop.
Jewellery for Dad
Looking for rings for men? Check the most elegant GLAMIRA designs! If you consider finding a present for your partner, then you can dive into our Mesut Özil Collection and Influencers X GLAMIRA. How about bracelets for men? A bracelet engraved with the initials of a child, can be one of the perfect dad to be gifts. Cool dads can be spoiled by exclusive men's earrings. Help him to reflect his style with a luxurious surprise.
You can give your fathers day presents without waiting for the delivery. With our Father's Day Gift Certificate, they will know that their present is on its way and they can see the details of their unique jewellery. Don't wait for delivery, wish amazing dads a happy fathers day now! Father's Day is a great opportunity to show him you appreciate his love, support, advice and guidance. GLAMIRA wishes all dads a Happy Father's Day!